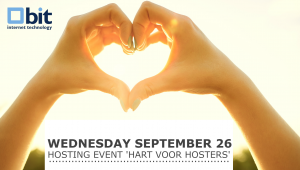 On Wednesday September 26, 2018, BIT organises a hosting event with the theme 'Hart voor Hosters'. Abuse protection, measures against DDoS-attacks, ISO 27001 certifications, etcetera. As a hosting party, you have to have a lot of things in order to meet the demands of clients and the laws and regulations. We like to think with you and provide you with solutions to relieve you of such worries so you can put your full focus on your core business without worrying.

There are several speakers during this event who focus on this message. Wido Potters (manager Support & Sales and member of the board of ISPConnect and AbuseIO), for example, will be giving a presentation on the new code of conduct on combating abuse within the hosing industry and how hosters with AbuseIO can handle abuse easily, quickly and automatically. Teun Vink (Security Officer at BIT) will talk about the measures BIT has taken in the battle against DDoS attacks to provide our clients with a clean network.

This event presents IT specialists in the hosting industry where we can offer support and what the added value of our service is by talks about current events and inspiring speakers.

Program

Wednesday september 26, 2018
14.30:
Welcome
15.00:
A clean network: the highest standards for safety and protections against DDoS attacks
BIT was closely involved with the design of NaWas (National Scrubbing Center). NaWas offers an on-demand protection against DDoS attacks. We are doing everything to keep your network as clean as possible. During this presentation we talk about the measures we have taken to do this.
By: Teun Vink, Security Officer at BIT
15.30:
ISO 2001 compliant? We can help you with that
As a hosting party, you are expected to have your information security in order and to have the required certificates like ISO 27001. At BIT, we cover this all for our clients and help you be ISO 27001 compliant so you can meet the laws and regulations, the tapping requirements and the demands and wishes of your clients.
By: Kristian de Bruijn, Security Officer at BIT
16.00:
-- Break --
16.15:
Code of conduct for combating abuse in the hosting industry and AbuseIO – Open Source abuse management
Presentation about the new code of conduct for combating abuse in the hosting industry and how hosters with AbuseIO can handle abuse easily, quickly and automatically.
By: Wido Potters, Manager Support & Sales at BIT
16.45:
BIT is the partner that understands your business
When you call BIT, you are not forwarded to a call center. You will always get to speak to someone with expertise, willingness to help and who understands your business, 24/7.
By: Walter Jansen, Senior Sales at BIT
17.15:
Drinks and guided tour through the BIT data centers

Signing up
The hosting event will be taking place at BIT-MeetMe in Ede on Wednesday september 26, 2018. Participation is free. Please note that this event is in Dutch.

Sign up